<![if !supportEmptyParas]> <![endif]>
84 Berlinetta
– the "digital Camaro"
Welcome to my webpage…
<![if !supportEmptyParas]> <![endif]>
<![if !vml]>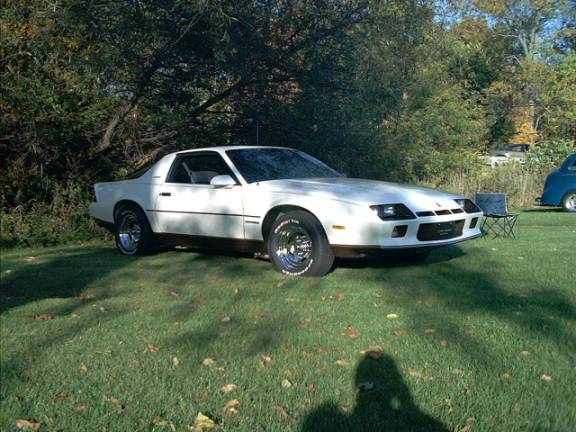 <![endif]>
Tinker's Creek, August 2001 (Cruisin' the Creek)
<![if !supportEmptyParas]> <![endif]>
<![if !supportEmptyParas]> <![endif]>
<![if !supportEmptyParas]> <![endif]>
Contents
<![if !vml]>

<![endif]>   Current Memberships
<![if !vml]>

<![endif]>   Favorite Links
<![if !vml]>

<![endif]>   Current Projects
<![if !vml]>

<![endif]>   Biographical Information
<![if !supportEmptyParas]> <![endif]>
<![if !supportEmptyParas]> <![endif]>
Current Memberships
<![if !vml]>

<![endif]>   NEOCC (North East Ohio Camaro Club)
<![if !vml]>

<![endif]>   TriState Camaro Club (Internet)
<![if !vml]>

<![endif]>   WCA (Worldwide Camaro Association)
<![if !supportEmptyParas]> <![endif]>
<![if !supportEmptyParas]> <![endif]>
<![if !supportEmptyParas]> <![endif]>
Favorite Links
<![if !vml]>

<![endif]>   World Wide Camaro Club Site
<![if !vml]>

<![endif]>   TriState Camaro Club Site
<![if !vml]>

<![endif]>   NEOCC Site
<![if !vml]>

<![endif]>   3rd Gen Camaro Site
<![if !supportEmptyParas]> <![endif]>
<![if !supportEmptyParas]> <![endif]>
<![if !supportEmptyParas]> <![endif]>
Current Projects
<![if !vml]>

<![endif]>   Acquiring a Strut Tower Brace
<![if !vml]>

<![endif]>   1.6 Ratio Rocker Arms
<![if !supportEmptyParas]> <![endif]>
<![if !supportEmptyParas]> <![endif]>
<![if !supportEmptyParas]> <![endif]>
Biographical Information
I'm a 40-year-old Camaro enthusiast, and have been since I purchased my car in May of 1989.  Back then it was my college commuter vehicle, and I must say it served me well for many years.  I met my lovely wife after graduating, and we were married in August of '93.  The car was soon placed into storage with 99,900 miles until the restoration project began in the summer of '97.
<![if !supportEmptyParas]> <![endif]>
I owe many thanks to my wife, for putting up with the long hours and the mess involved in a full frame-off restoration.  I have two wonderful children (Matthew and Courtney) who love to attend the local shows and cruises with me.  Matthew also had a hand in the helping… he could not wait to be able to ride in the car again!
<![if !supportEmptyParas]> <![endif]>
I have met many great people at the various gatherings, and several of them remain good friends.  See a list of the cruises and shows in our area… if you drop by, I may get a chance to meet you too!
<![if !supportEmptyParas]> <![endif]>
<![if !supportEmptyParas]> <![endif]>
<![if !supportEmptyParas]> <![endif]>
Last revised: 1-10-07
<![if !supportEmptyParas]> <![endif]>
<![if !supportEmptyParas]> <![endif]>